Men Brown Leather Jackets
Men Brown Leather Jackets, Brown Leather Jackets, Men Brown Jacket
The most basic type of leather jacket you can get is the regular or "normal" leather jacket. The major benefit of these ordinary Brown Leather Jackets is their versatility, as they go with practically any type of clothing, style, and overall look possible and give off a casual, at-home vibe in any setting.
Brown leather jackets—are they in vogue?
While there are certainly a lot of fashion trends that come and go frequently, some things are eternal, even when it comes to fashion. The much desired brown leather jacket is one of the more notable examples of this phenomenon. So, yes! Brown leather jackets are fashionable right now and will be for a long time. Now that we have some good news, how should a leather jacket be styled? Let's do our best to respond to this question.
The simplicity and ability to blend in with anything you wear underneath are the hallmarks of the classic Brown leather jacket. Not to imply that this particular style of jacket is boring or uninspired, far from it. Just keep in mind that they shouldn't be the center of your outfit; rather, they should be an outstanding addition.
The most like men's outerwear is the use of Wholesome Jackets. There are certain entails which a jacket must owe before being bought. A good quality Men's Brown Leather Jacket counts half on the durability test. Moreover, the featured qualities include a front end-to-end zipper, wide lapels, and several buckles to tighten up yourself very well.
These Men's Brown Leather jackets are self-explanatory for conscious males around. They can indeed pair this up with denim jeans and with their favorite sneakers to grab a DIY look.
How to Style Brown leather jacket
Even if brown isn't the color that first springs to mind when choosing colors, I think it is essential! The combination of orange and brown leather is one of the most gorgeous. Yes, there is a strong 70s influence, but with a few current accents, you can create a chic look. I like the idea of combining pea-green or cheery yellow with brown leather. A vivid pink might also be a smart choice. It is possible to pair bold colors with brown leather, indeed. Make use of colors like cobalt blue, yellow, and lime green. If you want to make brown leather less threatening, I suggest beige and brown!
 T-shirt with a brown leather jacket
Brown leather jackets can change color to match the type of outfit you are wearing, making them somewhat of a chameleon. Put on the jacket over a dress shirt for a smart-casual appearance. You may create an extremely casual style that is appropriate for any home party or other laid-back occasion by pairing the jacket with a tee.
Going More Formal
Do you need to look more professional? Brown leather jackets look fantastic with dark or white formal shirts, as well as a contrasting tie. To be quite safe for a variety of business dress events, opt for greys, blues, or black when it comes to trousers.
Don't forget to get yourself these Dunky Farrier and Fronzie Brown Jackets from the Jacketars shop.
We have a lot of various fascinating styles, textures, and design bomber and leather jackets that can be worn at all festivals, occasions, and events. Coming up next are the latest Brown Men's Leather Jacket collections in our franchise.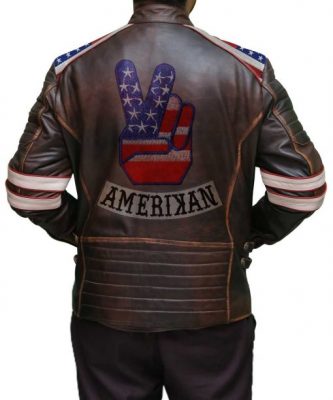 The day of independence has come, and you need something opulent to reflect your sense of style and national pride. Get ready as we introduce to you the Men's American Flag Brown Leather Jacket! so that you can demonstrate to the observer how enthusiastic you are about this day!
The newest generation of people aspires to appear just like their favorite video game character, with whom they are enamored. Our business offers Fallout 4 John Hancock  Leather Coat . However, the inspiration for this coat came from one of the most popular video games, Fallout 4.
A voguish appearance and a fundamentally mad nature are the goals of the alpha guy. We'll also let you in on something. It's not unattainable! A striking contrast is created by hiding your entire craziness under garish clothing. This duality may endow you with a tyrannical demeanor while simultaneously making you appealing to others. Top Gun Military Flight Bomber Leather Jacket is presented to you in real leather and is certainly a must-have for Men's Wardrobes.
Frequently Asks Questions
How long will a biker jacket last?
If properly cared for and you don't want to discard it, your brown motorcycle jacket could last for 5 to 7 years. You can wear this tough suit for many years to come as long as you perform the necessary upkeep.
Should you choose a larger size in jackets?
Your preference for how your jacket should fit you is up to you. If you want your coat to fit your male body form, it should be slender. Then you ought to choose the ideal size from our size chart. On the other hand, if you're looking for a jacket to satisfy your fundamental requirements for comfort and a few fundamentally trendy looks. 
What kinds of coats do you produce in brown?
All different styles of brown leather jackets were produced by Genuine Leather Jacket. Our artisans are skilled at transforming the typical into the unusual. To satisfy our customers' high standards, we have set specific design and quality requirements for our brown jackets. Therefore, never be scared to try any of the brown leather jackets from our collection.
What temperature you can wear a leather jacket?
Everyone is aware that a leather jacket is the wintertime uniform. However, it is no longer true. Why? Considering that you can easily withdraw at any time of the year. You can wear it throughout the year because it is a three-season suit. Most individuals favor wearing it in the winter or the middle of spring. However, you can also wear it in the summertime at night or in the evening.
How do you break into a leather jacket?
If you need to determine whether you should break in the leather jacket, you can do it by wearing it for a brief period. You shouldn't have any discomfort or tightness anywhere.
Are men's brown leather bomber jackets cool?
What you do with the dress determines whether it is trendy or not. But in a fundamental sense. Yes, brown bomber jackets are among the coolest pieces of clothing to wear.
How should a brown leather jacket be styled?
By the situation, it can be dressed up or down. It can be worn casually with jeans and a cotton t-shirt or formally with chinos and a button-down shirt.
Under a brown leather jacket, what do you wear?
You can pair any clothing with any other, but if you want to seem extra trendy, do so. After that, wear a stylish black T-shirt or hoodie underneath. It will undoubtedly improve your current style.
Are coats in the color brown in vogue?
As long as you have a personal interest in anything, it can be in style. We all agree that there is nothing more immoral than a brown leather jacket. As long as genuine leather enthusiasts are alive, it will remain in style. Any pair of slim-fit jeans, long boots, a sweater, or a handbag goes well with it.
What hues complement a brown jacket?
A brown leather jacket can look good with the color that you can feel is tied to your heart. Grey, white, or black are all options that can boost your style's necessary boldness. But for a more upscale appearance, we advise matching black.