Men's Jacket, Men's Jackets
Men Jackets are possibly the one item of menswear that can give any style the depth and definition it needs. According to history, men's jackets—and boy, do we mean many—have not only changed over time but have also helped to advance men's fashion generally. displaying men's coats that range from simple, timeless jackets to elaborate, richly designed coats. The variations in jacket lengths as well as the fit and elegance of the many styles of men's coats and jackets can all be seen. Men's Jackets are elementary picks and are basic style giving apparel to these handsome males around. In particular, jackets are mostly made up of leather but you may even explore a few of them made out of cotton. Choosing a distressed, vintage leather type Men's Jacket can give long life to your apparel and you may use it on a regular basis.
Jackets for Men: A Style Guide
Layering is one of the most acceptable ways to get the most out of your wardrobe, especially during seasons when the weather changes, such as from winter to spring. Without having to buy a tonne of new clothes, you can keep your wardrobe fresh by mixing and combining your favorite, adaptable pieces. Choose a few essential items to layer beneath your best coats, such as stylish crew neck jumpers, cardigans, and gilets.
Biker Jackets 
They are recognized for their distinctive black leather, which frequently has a waist belt and buckle fastening, an asymmetrical front, collar, zippers, and snap buttons. This kind of men's jacket, which was originally popularised by the hip and edgy motorcycle culture, quickly spread over the world, exuding a downtown atmosphere and being accessible enough to fit a wide range of individuals worldwide. Cafe Racers and Double Riders are further subcategories of motorcycle jackets. Contrary to the latter, cafe racers are a more straightforward jacket design with a round collar to match.
Aviator Jackets 
Men's aviator jackets are among the most popular jackets in the world. Aviator jackets, also known as Flight jackets and Bomber jackets, were first designed for pilots and have progressively entered popular culture. Aviators have experienced a great deal of style, silhouette, and design alterations, but they are typically seen as standout outerwear items with ribbed knit cuffs and waistbands.
Denim Jackets 
Denim jackets, often known as "jean jackets," were first worn in the US in the late 19th century. Denim jackets have developed significantly over time, much like their Corduroy counterparts, and are now offered in a variety of colors, washes, and treatments that are utilized to create several styles of jackets for men. Denim Jackets are available as shirt jackets, blazers, overcoats, overalls, vests, and jumpsuits, borrowing a few common characteristics from corduroy once more.
Lets Digout what we are offering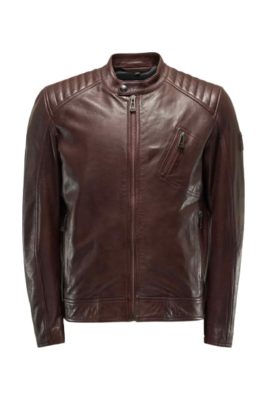 Hey, what exactly are you looking for that is so simple? You've come to the ideal moment and location. A gorgeous leather jacket with a classic design has recently been added to Leather's lineup of motorcycle jackets. The Men's Motorbike Leather Jacket is an alpha jacket with amazing technical characteristics that will not only give you a fascinating character in the public but also make your motorcycle journey more exciting.
Here is the long-awaited Fear of God x Adidas hoodie collection. Since Jerry Lorenzo was appointed to manage the Adidas basketball brand, all eyes are on what FOG and the Three Stripes have in store. At the end of 2020, Fear of God's Jerry Lorenzo signed a long-term contract with Adidas. At the Intersect show in Shanghai, the couple has now formally unveiled their collaborative outfit.
Further, while every fashion trend will come and go, the jacket will always be at the top of the list. No one can replace the jacket from the history of fashion, regardless of the current trends. This Men's Winter Air Force Pilot Bomber Brown Jacket from our store will drive you mad. Additionally, if you enjoy traveling in chilly climates, this jacket will be the best option for you.
Frequently Asks Questions
What are the names of men's jackets?
There are many different jacket designs to pick from, but some of the styles that every man ought to have are the bomber, biker, trucker, denim, track, blouson, hooded, overcoat, parka, pea coat, trench coat, raincoat, shearling jacket, anorak, and Crombie coat.
What is the name of a casual jacket?
 Denim jackets, also known as jean jackets or trucker jackets, are pieces of casual clothing constructed from denim, a tough-woven cotton fabric. They are frequently worn layered over T-shirts and cardigans and are usually colored blue, black, or grey.
What types of jackets are popular in 2022?
During this transitional season, light-wash denim jackets, camel-colored trench coats, sockets, blazers, bombers, and various cuts of leather are the outerwear that is most frequently seen.
Why do guys need to wear jackets?
Every time you put on a jacket, your body instantaneously becomes thicker. Although we can't guarantee that it will help you lift anything, the extra weight on your shoulders does appear impressive to onlookers.
What styles of jackets are popular today?
A cropped leather jacket, a neon leather jacket, a leather jacket with fringes, a peplum jacket, a cropped fine tweed jacket, a moto jacket, a wind jacket, a color-block zip-up track jacket, and denim are the most fashionable jackets for 2022.
What distinguishes a blazer from a jacket?
For instance, the shoulders on jackets are more rounded and rigid, whereas blazers have a simpler design with softer shoulders and a more relaxed fit.
How should I pick a men's jacket?
For the majority of men, having a couple of different jacket styles will do for various circumstances. A bomber jacket or down coat will offer you a wonderful look for weekend wear or date night, whereas a professional-looking wool coat or leather jacket would be ideal for work and special occasions.
Who wears coats and why?
shields against the cold. There are various jacket varieties, made of various materials and thicknesses. However, they all function to protect you from the wind or the cold. It adds elegance.