Bomber Jackets, Mens Bomber Leather Jacket, Men's Bomber Style Jackets
The Backstory of Bomber Jackets
Bomber Jacket first appeared in Europe in the late 1950s? These Jackets were the code of honor for the Air pilots of European Air forces. And because of this reason, initially, it was famous as the Pilot Jacket. It was the symbol of courage and pride for the militia during world war I and II.
Basic Design of Men Bomber Jackets
Eventually, after becoming the commercial, this Bomber Jacket adopted several alterations in its design. This Mens Bomber Jacket has gone through a series of history in its design and material. Primarily, Mens FUR Aviator Flying Pilot Bomber Jacket was meant to serve as protective gear for the soldiers. And it had made with rugged and robust material to fulfill the purpose. But now, it is no longer valid as this Jacket is purely popular to accomplish the need for fashion. The Jacket is loose from the middle, and there is an elastic band at the bottom to have a baggy look just like Notre Dame Rudy Irish Bomber Jacket.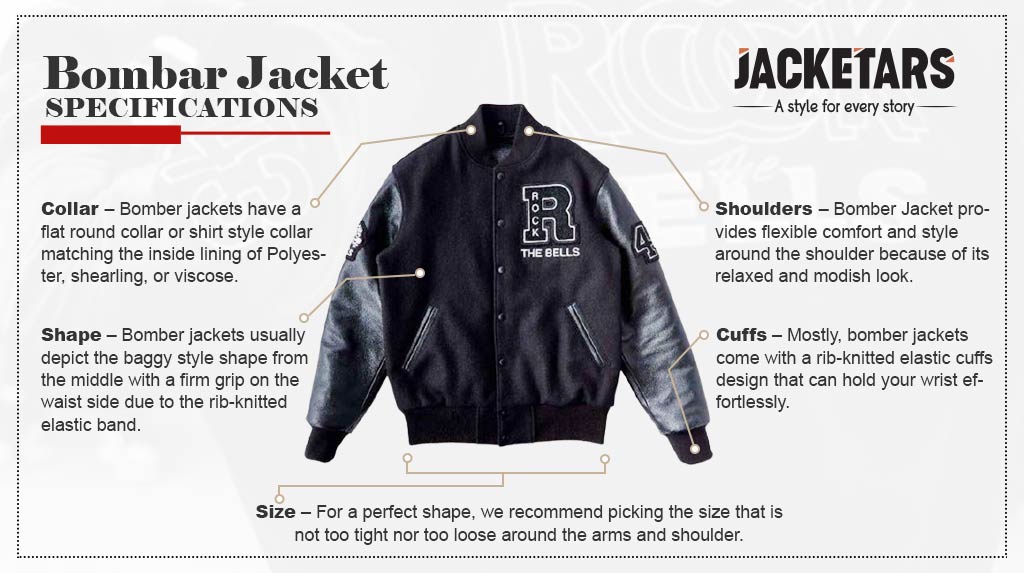 Modern Colors & Materials of Bomber Jacket
These days, they are coming in all colors and variations like Pelle Pelle Soda Club Leather Jacket. As being the outfit of teens, the Jacket has so many vibrant colors and choices. The main body of the Bomber Leather Jacket is usually of real leather due to its origin with different color choices. But there can be other choices as well, like faux leather, cotton fabric, wool fabric, satin, or suede leather pilot jacket. Also, as an addition, it may have fur, straight, or shirt-style collars. The internal viscose lining or shearling lining can be there to provide better insulation.
How is it as a style?
Since Men Bomber Jackets can add up elegance to your style, it is robust and functional at the same time. We've trendy Lettermen and Avengers Bomber Mens Jacket as an up-gradation suggestion for your Spring Outfits.
What we have to offer?
We have many fascinating styles, textures, designs, bomber, and leather jackets that can be wear in all festivals, occasions, and events. So, coming up next is the latest Men's Bomber Jackets Collection in our franchise.
Frequently Asked Questions
Why do they call it a bomber jacket?
It is always interesting to know the origin of something favorite. And you are searching to see why we call it a bomber jacket and not a bomb jacket, though. Bomber Jacket got its name from its initial use and configuration. In World War I and II, it was a part of military uniform. The pilot used to wear these jackets when they were on the flight.
Are bomber jackets still in?
If you are thinking of buying a bomber jacket, then we recommend going for it without any doubt if it's still in style. Its vibrant design and comfort providing are still unique today, and it's not going anywhere from the style near future.
Is a bomber jacket suitable for winter?
For a crisp look, pair your denim jean with a classic-looking bomber jacket, and you are good to go for the rest of your day. There are many in shearling lining that can save your day for the winter, or pick up the one in viscose lining, and you can pull that out at any time of the year.
Are bomber jackets good for rain?
It depends on the material you have chosen. Mostly real leather is not recommended to be used in the rain. Faux Leather can provide you better resistance, though. Polyester and Parachute fabric is also an ideal choice, but never wear the cotton, I repeat, never!
Can a bomber jacket be worn in summer?
You may wear a complete bomber jacket in summer, provided you select one that can be worn in hot, moist or heated temperatures. You can choose cotton, nylon, polyester, denim, or some other fabric.
Should you zip up a bomber jacket?
When choosing the size of the Bomber jacket, make sure to pick the size that not too tight nor too loose. Size up if you need to but select the size that cannot be too tight around your arms, and you have enough room to zip it up!
Is the bomber jacket too short?
When your jacket's shoulder seam comes before the end of your shoulder, the jacket is too short. A jacket that is too small on your shoulders can make your movement unpleasant and impede it.