Varsity Jacket
Varsity Jacket, Men's And Women's Varsity Jacket
Multiple patches are attached to the sleeves, front, and back of our Akira Red Bomber Multi Patch Jacket, giving it a more realistic appearance. Viscose fabric is stitched inside and it is constructed of regular satin fabric. The garment has complex details from the rib-knit neck and cuffs. Additionally, it has a few waist pockets and a zipper closing, which add to its stylish appeal. Therefore, place your order for this famous Akira Satin Red Bomber Jacket right away.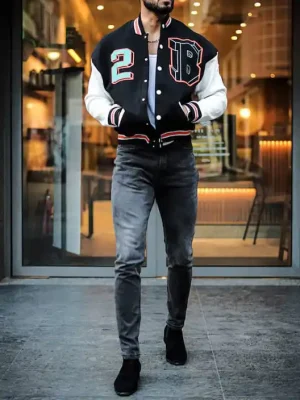 When you want to stand out, nothing is better than spending money on an all-season statement item like a Varsity Jacket. If you have the ideal jacket, you may look great wherever you go, whether you're going out with friends or on a date.
You won't have trouble finding a pocket to fit your wallet, keys, or phone thanks to the extensive storage. Additionally, when the weather is exceptionally chilly, your hands have somewhere to go.
What are the features of Varsity Jackets?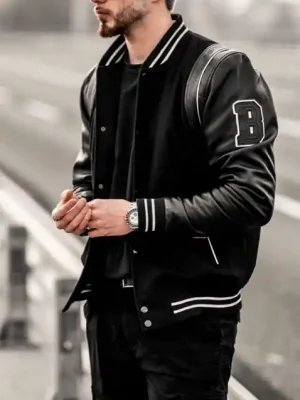 Although it is true that Varsity Jacket and Letterman Jackets are the same things, the use of two designations is due more to level and history than anything else. People who are or have previously participated in "Varsity" level sports, academics, or other activities that qualify them to obtain an official Varsity Jacket always wear varsity jackets.
Teams typically have a Junior Varsity level as well as a Varsity level, which includes the greatest players or individuals in the relevant field, in many high schools and universities. In contrast to Letterman Jackets, which have been used since the beginning, the employment of Varsity Jackets to categorize a certain set of people is more recent.
Naturally, the transition from sweaters to jackets was made possible by the development of more durable fabrics like cotton and leather sleeves from the initial design of wool-only sweaters. This name is a result of the lettering being stitched or patched onto the garment. The meanings of these letters might range from the name of the school to the athlete's number. This is the reason why today's  Men's Varsity Jackets have a variety of icons.
What Kinds of Varsity Jackets Are There?
Varsity Jackets' growth over the past few decades has been quite significant. These jackets' ability to be customized lets designers experiment and try new things with their fabrics and designs. Let's examine the various varieties of Varsity Jackets.
The mixtape by Logic named Bobby Tarantino served as the source of inspiration for the Bobby Tarantino Varsity Jacket depicted above. Robert Bryson Hall, better known by his stage name Logic, is an American rapper, songwriter, producer, and streamer. Numerous fandoms exist for his album. His music is inspired by friendship. He gave his record the name Quentin Tarantino in honor of his close friend.
Wool makes up the body of the Lacoste Live Two-Tone Bomber Jacket, while genuine leather is used for the sleeves. The jacket is offered in a magnificent green and yellow color scheme that gives it a sophisticated and fashionable appearance. The Lacoste Two-Tone Varsity Jacket boasts a front buttoned-over zipper closure, a rib-knitted collar, and a rib-knitted hemline, all of which give the jacket a highly fashionable appearance.
High-quality wool is used to make the MMXV Stadium Varsity Jacket. The gorgeous jacket's collar is constructed in rib knit and fastens with buttons. Genuine leather long sleeves with fitted rib knit cuffs are included on the jacket. The Stadium MMXV Letterman Jacket has a soft viscose lining on the inside, making it comfortable to wear.
Frequently Asks Questions
Are varsity jackets worn by baseball players?
Baseball varsity jackets are typically worn by young men on baseball teams, but with so many girls participating in the sport nowadays, females are starting to wear them more frequently. In order to recognize their achievements in the sport, cheerleaders can also desire their own varsity jacket.
What is the best way for a guy to wear a varsity jacket
Decide on a slim fit. Opt for a monochrome item for a more straightforward strategy. Consider wearing a pastel varsity jacket to brighten up your look. Dressing down an outfit with denim and high-top sneakers is a terrific idea. You can dress it up with a shirt, tapered jeans, and brogues.
If you don't play sports, is it OK to wear a varsity jacket?
Students who participate in Academic Decathlon and Academic UIL are two categories who may be qualified for a letterman jacket. In movies and television shows, athletes frequently wear letterman jackets, although students can earn a letter without participating in sports.
What distinguishes varsity jackets from lettermen?
In simple words, a jacket becomes a letterman jacket when worn by a high school senior, and a varsity jacket when worn by a college athlete.
When did varsity jackets start to become popular?
Male athletes wore letterman sweaters and jackets during the first part of the 1900s, but they only became trendy in the 1950s.
Are the varsity jackets we purchased a wise purchase?
Anyone wishing to expand their collection of jackets should consider the varsity jacket because it is an article of outerwear with a rich history and superb aesthetics (most men, in our experience). As long as the colors aren't too vibrant, it is also quite adjustable.
What advantages come from donning a varsity jacket?
Students in high school and college in the United States use letter jackets, which are baseball-style jackets, to display their school and team pride as well as individual accomplishments in extracurricular, athletic, and academic activities.
What modifications can I make to my personalized varsity jacket?
We mean every detail when we say that you have complete control over your custom varsity jacket order. To begin with, a variety of materials, such as leather, wool, polyester, nylon, cotton, denim, fleece, and even satin, are available for your jacket's body, sleeves, and collar. With this option, you may also choose the color of your jacket's body and sleeves. If leather is your material of choice, you have a wider range of polish and leather-type possibilities.
Investing in a men's varsity jacket will provide you with a trendy standard that won't compromise on comfort and will last you for years. When wearing this jacket, you can