Cafe Racer Jackets

Cafe Racer Jacket, Men & Women Cafe Racer's Jackets
One of the most fundamental pieces in a man's compact wardrobe is a leather jacket. A well-made and well-styled jacket always properly matches the scene, and this has been the case for millennia, regardless of the season, location, or occasion. However, it's also true that a lot of people are ignorant of the lengthy and rich history and varieties of these jackets.
Men's leather jackets come in a wide variety and are fantastic. From the notorious biker jacket, which we will discuss in this article, to the cold-weather warrior shearling coats, the bomber jacket, which has military and air force roots, and the
Cafe Racer Jacket
, which is a subgroup of the latter,
The subset of a motorcycle jacket is referred to as a Cafe Racer Jackets. It is distinguished by an around collar, a straight zipper, and a simple design. Typically, it has four pockets total—two on the chest and two on the waist.
It is well-liked by bikers and racers for travel, but it is increasingly used as a regular jacket for informal and fashionable occasions. Throughout the entire year, both men and women wear it due to its elegance and simplicity. Its ease of use with any clothing and ability to produce more dependable results are the primary drivers of its success.
To make you stand out in a crowd, these cafe racer outfits are the perfect tool! The careful construction of all the jackets in our collection of Harley Davidson Cafe Racer Jackets with genuine handcrafted leather and a viscose lining provides you with durability along with comfort. The popularity of our cafe racer jackets collection knows no borders. They have worldwide acceptance among all age groups and both genders. Its look magically ignites a spark, and never fails to give out a cool vibe! Even after decades, these black moto leather jackets and brown cafe racer jackets will keep you updated in the world of style.
The biggest reason why our cafe racer jackets are so successful is that they easily fit any dress, and give magical results. Biker Leather Jacket in black, brown, white, red, and distressed will give a dramatic expression to your simplest looks, and the tailoring complements your shape amazingly! The best part is, that our distressed cafe racer jacket style is not just for bikers, but the best option for all because of its safest looks. With a rich history, these racer jackets bridge the gap between vintage and modern being a perfect blend of both! The colors of these Real Leather Jackets vary from shades of black, brown, red, and grey. And are available in distressed textures too!
Cafe Racer Leather Jacket usually comes with a short-banded collar and there's no extra fitting that you need to worry about. These are like pleasing rider jackets for men and women all up to bring a cheerful smile onto your face.
The Classic & Vintage-Inspired Styles
Do you strive for the pinnacles and heights of fashion? If so, seize this Monaco GP Max Verstappen Jacket. However, with the aid of this amazing jacket, you can alter your appearance in the most seductive and adorable manner.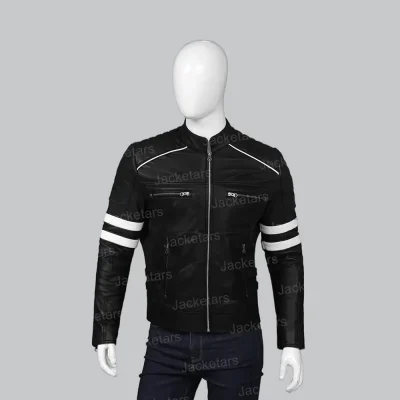 For individuals with authentic taste, the Men's Cafe Racer Retro Black Leather Jacket is made of real leather. Additionally, it has a cozy viscose lining inside for comfort and warmth. The jacket's zipper front closure and erect-style collar are other standout features. This jacket will serve as a wonderful example of how to be trendy while maintaining a minimal aesthetic. The jacket has white designs on its sleeves and a traditional black tone. It also has zipped pockets.
Those with minimalist tastes should unquestionably keep a chic café racer jacket in their wardrobe. These coats are available to anyone with taste, not just those who ride. Café rider jackets have firmly established themselves in the annals of fashion history and have endured for many years. A café rider jacket's best feature is that it exudes the quintessential "cool-guy" aura. These are always preferred by those who don't want extra embellishments fluttering around their jackets because they are so plain and tightly fitted. Men's Cafe Racer Red Leather Jacket from Jacketars is here! It demonstrates why café biker jackets have consistently ranked first among all available looks.
Frequently Asks Questions
What does "cafe racer jacket" mean?
These jackets became known as "cafe racer jackets" due to their intimate ties to motorcycle culture and a bike of the same name. Due to their ability to provide both protection and style, they quickly gained popularity among cafe racer riders. Today, cafe racer jackets are widely acknowledged as a classic piece of motorcycle clothing, and both riders and fashion aficionados adore their simple appearance.
How ought the fit of a cafe racing jacket be?
For many motorcycle riders, cafe racer jackets are a necessary piece of clothing. They should fit snugly and be comfortable to wear when riding a motorcycle. Additionally, the jacket needs to be fitted properly to prevent fluttering in the wind from making the rider lose control of the motorcycle. But if you're just wearing it for looks, you can choose a fit that best complements your individual style.
Which hue is the finest for a cafe racer jacket?
In terms of cafe racer-type leather jackets, black and brown remain popular hues since they are straightforward yet elegant enough to make you stand out from the crowd. If you currently own one of these colors of leather jacket, you might choose the fashionable burgundy cafe racer jacket instead.
How should a racing jacket be worn?
The cafe racer jacket is ideal for casual streetwear. For an eye-catching street-style outfit, pair matching boots with denim and a white T-shirt underneath. You can add sunglasses to your look to give it more appeal. Café racer leather is also appropriate for semi-formal occasions.
Is a leather jacket appropriate for the workplace?
Although leather jackets were not designed to be worn by business professionals, they will work well with the informal business dress code if you can keep them simple, light, and dressy. One of the best outerwear options for formal occasions is the leather blazer, which is sold by makers of leather jackets.
How should a cafe racer jacket be worn?
The fact that a cafe racer leather jacket can be worn with nearly every item in your closet makes styling it simple. You'll appear badass in an instant if you wear a Cafe racer leather jacket with chinos or jeans, a t-shirt, and boots.
Does a cafe racer jacket fit women?
Women can wear a leather jacket in the cafe racer style by pairing it with a leather handbag and boots to complete their look. It might be an excellent option for women who prefer a simple appearance to one that is flamboyant.
How should a cafe racer jacket be paired?
While a cafe racer-style jacket is elegant enough to be worn on shirts for formal or semi-formal occasions, leather jackets look best paired with a t-shirt. To complete your formal outfit, you can put on a black leather jacket over a white shirt that is tucked into black pants and a black tie.
Why should a cafe racer jacket fit properly?
Because leather stretches a little as it breaks in, a cafe racer jacket should fit like a second skin. When purchasing one, be sure to get the proper size. The wrist should be covered by the sleeves.