Real Leather Jackets

Men's Real Leather Jacket
A
Men's Real Leather Jacket
is one of the few pieces of menswear that is as packed with attitude, history, and unadulterated masculinity. The leather jacket is high-testosterone menswear and is associated with pilots, punks, motorcycles, and Marlon Brando, but it's also a surprisingly timeless piece of clothing. Without one, no well-curated wardrobe is complete.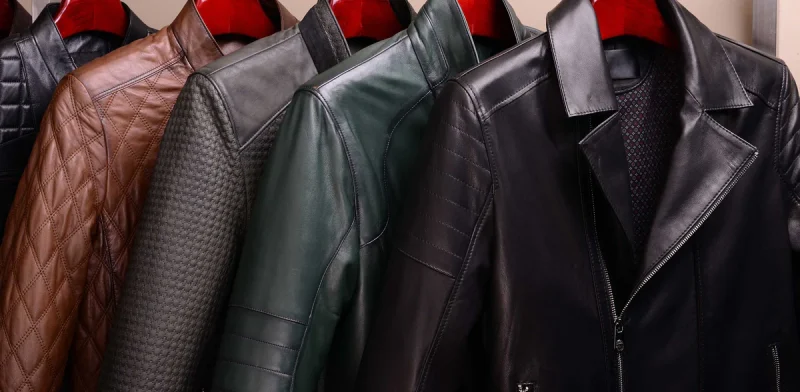 Since our knuckles ceased scraping the ground, men have worn hides and skins, but the modern leather jacket for men only became popular in the early 1900s. Early aviators and members of the military, most notably the German Air Force in World War I, wore Brown Leather Flight Jackets.
It's truly hard to find premium quality 100% Men's Genuine Leather Jacket in the market. These are ultimately up to give you a tough time.  We're probably here to solve this problem of yours so that you won't have any problem in this regard.
Buying a Real Men'sLeather Jacket is such an easy alternative for you. You deserve to have something like this in your closets which is acquaint able to impart comfort every time you wear it. In this category too, we are up with prime quality character jackets. Men's Real Black Leather Jacket includes Chris Pratt Jackets, Assassins collection, Avengers, and Batman's Jackets as the favorite ones.
Things To Look For To Determine If A Leather Jacket Is Genuine
The pricing is the main distinction between real and fake. A real leather jacket is twice as expensive as a fake leather jacket.
Real leather of high quality always has a little warm and silky feel to it.
Chemical synthesis and mechanical production give faux leather an uneven textural pattern. Real leather, on the other hand, has a distinctive, uneven texture pattern with variances within a single piece.
The leather can be identified well by its fragrance. Real leather smells organic and natural, as opposed to synthetic leather, which smells like chemicals or plastic.
Try this test only if you have the product at home because it is sensitive. Take hold of the leather's edge and make an effort to seal it with fire. If there is a burning plastic smell, the leather is 100% faux; otherwise, the leather is natural.
Purchasing Your First Men's Leather Jacket: What You'll Need
The good news is that your initial leather jacket purchase won't cost much. The list of materials you will need to complete this tutorial is as follows:
current measurements of your upper body, such as your chest, waist, and arm length

Your intended outfit pairings for your leather jacket

A leather jacket can be purchased for at least $150.
ADVICE: Select custom-made items for a better fit
You have it simple if you choose custom-made. You may acquire a leather jacket that fits you properly by simply sending in your dimensions. At Independence Brothers, we make you seem flawless.
Although you may buy leather jackets that fit right off the rack, getting the ideal fit is difficult. By purchasing a Custom-Made Leather Jacket, you can be confident that it will fit you perfectly. The price of this isn't often prohibitive either.
We, Jacketars aim to reveal fine quality products into our market. And you need to trust us in the first place. We have a massive collection of premium quality Men's Real Leather Jackets saving your time and money both. Do place an order before it just gets out of stock.
We have a lot of various fascinating styles, textures, and design bomber and leather jackets that can be worn at all festivals, occasions, and events. Coming up next are the latest Men's Real Leather Jackets collections in our franchise.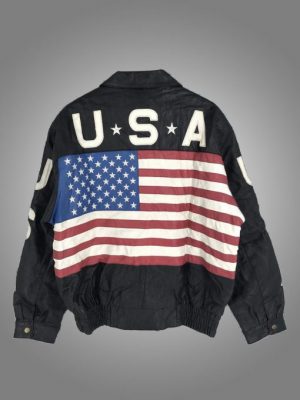 You already know what will work best for you, and we know how to make it! Our design team adhered to the prescribed method for maintaining the ideal balance in this outfit. The substance utilized is real leather of the highest caliber. This Vintage American Flag Jacket was made by our artisans using closed-grain leather for long-lasting sturdiness. To give the logo a clean look of the design, we also used on-screen printing. Why not emulate their abilities by acquiring one for yourself? Do you want any further rewards? You will receive some!
Real leather was used to make Dwayne Johnson's Red Notice Leather Jacket, which keeps you warm. The brown hue and textured design of this red notice leather coat are two of its most striking aspects, giving it a unique and fashionable appearance. Additionally, the coat's interior has a plush viscose lining to keep you cozy. It has an edgy vibe thanks to the long sleeves and open hem cuffs.
Frequently Asks Questions
Which is better, a tight or a loose jacket?
While it should be cozy, it shouldn't be too loose that the fabric bunches. Alexander advises trying it on underneath whatever you would typically wear underneath a coat, such as a sweater or all winter coats.
Real leather is warmer than fake leather, isn't it?
Genuine leather has a warm, supple, and silky feel. Typically, faux leather is cold, stiff, and glossy. Genuine leather has a tactile quality that brings back memories of bygone periods.
Do leather coats sag over time?
Although leather extends as you wear it, a sweater should still fit underneath. Like any other jacket, the sleeves should end at the top of your wrist. The layers underneath you will start to seep through if you climb any higher.
What is the lifespan of a leather jacket?
A good one ought to last you 20 years or longer. There will be periods when you wear it for three to five years because it is fashionable. After that, you store it so that you can recover it later, providing your sizing is consistent.
Do girls like men wearing leather jackets?
Leather is a durable material that is also incredibly smooth to the touch. A leather jacket may effortlessly transform your look from ok to A+. You feel more self-assured because a leather jacket always looks fantastic, regardless of your style.
Can fat guys wear leather jackets?
While obtaining a leather jacket for larger and taller men may be more challenging, it is not impossible. Let's take a look at various places where you can get a leather jacket if you're a big guy, and then how to style it once you've got it.
Are leather jackets for guys still in style?
Men's leather jackets are a classic style that will always be in vogue. For a look that will last a lifetime, go for classic cuts like a black biker, bomber, or racing jacket.
Does a leather jacket suit everyone well?
People no longer value leather jackets; instead, they just wear them whenever they want. Anything you wear won't automatically look good with a leather jacket. It's one of the hardest items of clothing to match. In general, if someone wore black pants, they would at least seem ordinary.
Do men need to wear leather jackets?
Because leather jackets are a timeless, adaptable garment that has been a mainstay of fashion for decades, men can wear them. It is the kind of clothing that never goes out of style, especially if you select a classic cut.