Men Fur Jackets

Men Fur Jacket, Men Fur Leather Jacket
Fur Jackets are the favorite of all, whether it is men or women. These aim to provide better insulation and the best style. Yet, the manufacturing companies are thinking much to make better use of this incredible material type. This material type is not that famous among men but to be very honest, you'll rock the party if you'll wear it. We just have two of the picks in this category which are Assassin creed and Lieder Fur Leather Jacket. All you can do is pair Men's Fur Jackets with simple, contrast jeans to look damn handsome overall. Be reflective through your attire, and its one of the most sound intentions this day,
History
Look Back in Time In the 1920s and 1930s, raccoon coats of varying lengths were popular among the artists of the Harlem Renaissance, as well as during Ivy League football games. That was put on hold by the Great Depression until fur coats were brought back by a number of musicians, including Miles Davis, Ray Charles, Jim Morrison, and Elton John. Fur coats were commonplace in 1970s blaxploitation films, but in real life, males mostly bought furs for their trophy wives rather than wearing them.
What Not To Wear With Fur
You were duped by What Not To Wear With Fur: If you approach wearing a fur coat with the appropriate attitude and even a little swagger, there is nothing you cannot wear. It raises the bar for dressy ensembles but can also improve anything from chinos to your favorite pair of jeans and shoes to a suit. It's a good idea to wear a solid column of color underneath a fur coat that is particularly heavy or rough so that the man below still looks dapper. However, keep faithful to your brand if it boldly combines styles, patterns, or hues. Are you having the kind of day when you want to add the ultimate touch of luxury to your sweats? It's impossible to overstate how elegantly high and low fashion are combined.
Fur Jackets
This is what we specialize in at Dudes Boutique, and it's your best opportunity to flaunt your sense of style. A fur coat or jacket will not overpower your frame and is more informal and simple to wear on a daily basis. With these shorter spurts of fur, you can violate the rules and give basic familiar items an opulent touch. Vests, biker jackets, and bomber jackets all get a Technicolor makeover thanks to fur. Everyone has options, including hooded, reversible, puffer-styled, and combinations with fabrics such as exotic alligator leather. When dyed in vibrant hues, Faux Fur Jackets make an even bigger statement for exquisite luxury that doesn't go beyond.
Popular Men's Fur Types
Mink

Chinchilla

Fox

Rabbit

Shearling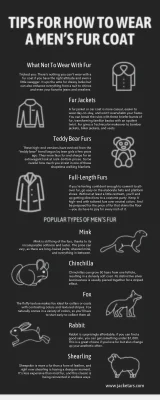 We have a lot of various fascinating styles, textures, and design bomber and leather jackets that can be worn at all festivals, occasions, and events. Coming up next are the latest Men's Fur Jackets Collections in our franchise.
The S05 Spencer Ralston Superstore Plaid Jacket has a fine wool mix exterior and a comfortable viscose lining interior that maintains its new appearance even after numerous washings. Then there are the fundamental components, such as the buttoned front closure, shirt collar, flapped pockets, and the attractive blue/gray plaid pattern that just looks alluring. Purchase it right away and style it as Spencer did!
Young Wallander Adam Palsson Jacket is made from real corduroy fabric and has a cozy viscose inside to keep you warm in the winter. Furthermore, the front of this jacket is buttoned. It looks more upscale because of the fashionable shearling collar. For a striking appearance, wear this jacket with black jeans. Additionally, you shouldn't hesitate to wear it to both informal and formal occasions.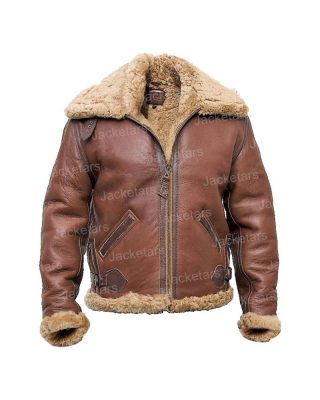 Since the beginning of time, men have loved hides and skins. They have covered themselves in them to be warm. Today, the Men's Shearling Bomber Leather Jacket is the ideal combination of toughness, masculinity, and heritage for men's outerwear. The leather jacket as we know it now was invented in the 1900s. However, the history of shearing dates back to World War 1.
Frequently Asks Questions
Is wearing a fur jacket still in vogue?
It hasn't lost its appeal in years, and there's no indication that it ever will. Previously reserved for royalty, fur jackets are gradually becoming more and more popular among the upper class.
Does wearing a fur jacket really keep you warm?
Natural materials like fur are utilized to keep people warm in the winter. Fur shields you from the elements so you may stay warm and cozy all season long.
Is fur a heavy substance?
Real fur tends to be lighter than synthetic fur.
When wearing fur, what keeps you warm?
A layer that has less insulation is thinner. The boundary layer is larger the fur liner is thicker. Additionally, the fur's different hair lengths change how cold air moves past in different wind directions, thickening the boundary layer.
In style for 2021 are our fur coats?
In addition to being one of the trendiest trends for Winter 2021–2022, faux fur coats and collars are also more affordable, stylish, and environmentally friendly than ever. Not to mention that they keep us warm, unlike the crop top trend.
Do men wear fur-lined jackets?
Yes, rather than for their aesthetic worth, males choose to wear fur coats. The majority of guys wear them because they are so warm, even though others do so to show off their fashion sense. From bomber jackets to long coats, there are many different designs of men's fur jackets.
Can I continue to don fur?
Although the nuances of this fashion trend, like many others in the industry, alter from year to year, real fur coats are a trend that never fully goes out of style. This implies that you might purchase a fur coat now and wear it for however long it lasts.
Is it acceptable to don vintage fur?
Yes, it is moral, and there are a number of positive aspects as well. Wearing outdated fur is a fantastic way to reuse it. By bringing a significant amount of historical fur back onto the market, wearing it also helps to lower the demand for new fur.