White Leather Jackets
White Leather Jackets, White Jackets
Are you searching for a brand-new leather jacket? If so, you might want to think about going with a White Leather Jacket. Many people picture typical brown leather jackets when they think about leather clothing. After all, leather is naturally brown in color. The only time leather changes color is when it is dyed. In spite of this, leather jackets are currently produced in a huge variety of colors, including white. A white leather jacket may seem like a strange choice, but it has several advantages, some of which are stated below. Who wouldn't want to look fantastic and beautiful? One's personality and sense of style are defined by how well one dresses in the morning. A White Leather Jackets is a piece of couture that can completely improve your appearance. Yes! A white leather jacket is a luxurious and eye-catching fashion statement that you absolutely must have in your closet. A white leather jacket is an elegant and simple way to finish off a casual outfit, giving your go-to outfit a modern twist. It is both stunning and ageless.
Due to its neutral hue, white looks fantastic and matches any clothing flawlessly. You can style White Jackets in a variety of ways to give yourself the desired attitude and charm. You don't need to worry if you need to rush outside and desire gorgeous and vivacious appearances because a white leather jacket will never go out of style. Here are some suggestions for wearing a leather jacket with your favorite outfits:
What You'll Need For White Jacket Style
In contrast to more conventional, darker leather jackets, a stark white jacket necessitates a far more restricted color scheme. Since white doesn't work with everything the same way black does, you might need to supplement your wardrobe with particular pieces. Here are the items we advise you to have since we'll be sharing about three different styles with you.
leather jacket in white. Even if you decide to wear only white, you can choose from a number of coats, including biker, bomber, and leather motorcycle jackets. To ensure that you get the appropriate one, we'll go over a few details below.
A MONOCHROMATIC LOOK
White attire. Count on us for this. Make sure that all of your whites are the same shade before we get into further depth about this daring style (preferably stark white instead of off-white).
tall white shoes. The undisputed ruler of shoes. Actually, having a pair of these in your wardrobe is a good idea because they are your best option.
SUBTLE AND COLOR
Tops are pastel. Choose your preferred soft hues that make you think of spring instead of jewel tones since they don't match white as well as pastels do.
thin bottoms White is the absolute exception to the rule that dark pants and a leather jacket must always be worn together. Your light grey bottoms, khakis, and jeans are perfect for this occasion.
WHITE AND BLACK
dark shirts. You don't have to only wear black tops to achieve the black and white style we're looking for here. Again, avoid jewel tones, but acceptable alternatives are black, dark grey, and midnight blue.
jeans in black. Dark shades like grey and blue are inappropriate here. With as little distressing as possible, black, thin jeans work best for this particular appearance.
What we are offering?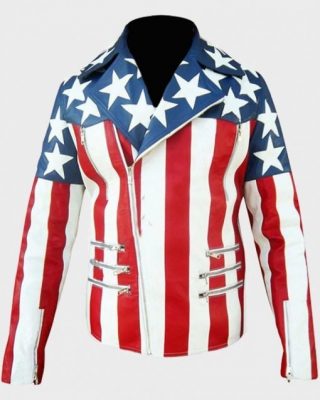 Why would someone pass up the opportunity to style the entire flag of their beloved nation on their jacket? Do you? Therefore, wait till we reveal the fascinating qualities of this USA Leather Jacket so we can tell you what you will miss if you ignore it.
However, "Julia Reilly" wore this classy-looking white jacket while playing "Tammy Thompson" in Stranger Things S04 season. Moreover, she simply had a stunning appearance in her Juila Reilly White Jacket from Strange Things S04.
Frequently Asks Questions
Are white leather jackets challenging to maintain?
Even though the jacket may have numerous scuffs and stains, utilizing the incorrect cleaners or conditioners could permanently stain the leather finish. Fortunately, white leather is actually extremely simple to clean with the correct materials and a soft touch.
White leather jackets are they?
Grey-brown leather jackets reach a height of between 0.5 and 3 cm. White grubs can easily be distinguished from leather jackets. Brown, living just above the ground, and lacking a visible head, leatherjackets rarely coil into a C form.
How are white leathers maintained?
Use a dry microfiber cloth to regularly clean the leather, depending on how frequently it is used.
Tip
Avoid smoking cigarettes and being around nicotine.
Regularly clean the leather.
To prevent cracking, use a decent leather conditioner at least once every six months. The conditioner lessens oxidation as well.
Does white leather stain easily?
White leather is especially susceptible to stains. Even though leather is sturdy, it's a porous surface that can absorb oils from skin and hands, causing the stain
When is it inappropriate to wear a leather jacket?
Although a non-quilted leather jacket looks more street-chic in warm weather, leather jackets are best worn in winter and spring. Wear a leather jacket with a shearling lining when the temperature is too cold.
Do leather shoes have to match a white leather jacket?
There is no requirement that your leather jacket and shoes match. Although they don't need to match perfectly, your shoes and jacket should go well together. You're good to go as long as the leather jacket and shoes are the same color family.
2022: Will leather be fashionable?
No of the time period, fashion fad, or style, leather will always be used in fresh collections every season. Popular social media profiles and the Spring/Summer 2022 runways both feature colorful leather in a particularly stylish form.
using vinegar to clean white leather?
How to clean leather with vinegar: Even though it might surprise you, vinegar works great on leather. If the stain is more persistent, tougher, and older, take a cleaning cloth, totally wet it with white vinegar, and gently rub the damaged area.