Men Best Selling Jackets

Best Selling Leather Jackets, Men Best Selling Jackets
There is no better place than Jacketars to get a leather jacket for you or a loved one. They are the greatest leather jacket manufacturers in the world and a business renowned for providing its cherished consumers with the ideal balance of quality and affordability. Shoppers at Shopperfiesta can choose from the most amazing designs in the newest fashions. It has a huge assortment of jackets of many varieties, including the Bomber Jacket, Motorcycle Jacket, Cafe racer Jacket, and Suede Jackets, among many others. How about if I tell you that you can have your favorite Jhonson Black jacket at half of its actual rate? Hurrah! I Have been successful in cheering you up that big. So, our Best Men's Selling Jacket domain contains all facsimiles worn by the most rated celebrities of this era.
Jacketars aims to sell users what they want. We care about the money you spend but we care more about how you earned. So, we want you to save a lot. It's like bestselling products are mostly out of stock or are normally found to be sold at elevated prices. We care, so here we are with amazing discounts up to 60% which is astonishing yet a truth on all Best Men's Selling Jacket of ours.
The list runs a long way but a few of the famous picks include Batman knight Hoodie Jackets, CyberPunk Jackets, Darin Black Jackets, and a dozen more. These Men's Best Selling Jackets are incredible in terms of quality, durability, style, and course colors. You may even check out several reviews supporting above mentioned facts by us.
We have a lot of various fascinating styles, textures,s, and designs of bomber and leather jackets which can be worn at all festivals, occasions, and events. Coming up next are the latest Best Men's Selling Leather Jackets collections in our franchise.
Let's check out what we are offering
if you're a stylist who prioritizes efficiency and appearance. However, this is the ideal location for you. The Men's Bape Shark Camo Head Hoodie is a top-rated choice for any comfortable and casual needs and is composed of fleece fabric. The Hoodie's inside viscose lining keeps it cozy and warm. Additionally, it has lovely long sleeves with knit cuffs. Any high-quality outfit you decide to put underneath this hoodie will look excellent. Two waist pockets and a zipper-style clasp finish off the blatancy.
The Pooh Denim Jacket is constructed of high-quality denim and has leather sleeves to keep the wearer warm and comfortable. It also has stylish front buttons and a rib-knitted collar. A 1990s Disney film called Winnie The Pooh Varsity Denim Jacket is quite stylish and practical for everyday wear. The rib-knitted cuffs on full-length sleeves also give the wrists a flawless fit. There are pockets on the front and inside of the waist.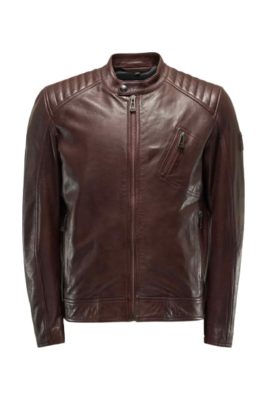 Hey, what exactly are you looking for that is so simple? You've come to the ideal moment and location. A gorgeous leather jacket with a classic design has recently been added to Leather's lineup of motorcycle jackets. The Men's Brown Cafe Racer Jacket is an alpha jacket with amazing technical characteristics that will not only give you a fascinating character in the public but also make your motorcycle journey more exciting.
Frequently Asks Questions
What Kind Of Leather Is Best For a Leather Jacket?
Lambskin or cowhide leather is the best leather to use when making leather jackets. These leathers have the ideal texture, level of elasticity, and durability for a leather jacket. The more you wear your jacket, the more it will conform to your body and age gracefully with you to become a vintage masterpiece.
What Leather Jacket Color Is Best?
Black and brown are the two most popular and best-selling hues for leather jackets. Both of these hues are often appropriate for every occasion and all personalities. Blacks and browns bring out your best brilliance and may be worn for either a formal function or a casual date.
Which Men's Leather Jacket Should I Get?
It can be difficult to select a jacket from among the thousands of styles and fits that appeal to your personality. However, Jacketors has simplified and made this process simple. You must select the most appealing style from the latest trends in the men's bestseller department.
How do I pick a leather jacket for men?
The sleeves and body of the best leather jackets are lined separately, and the body is frequently lined with a better-quality insulating material. Check the jacket's armholes to see whether they are higher up. This makes it easier to move around and improves the fit in general.
What leather jacket thickness is ideal?
Typically, automotive or furniture leather is between 0.9 and 1.2 millimeters thick. Thick leather is defined as having a thickness greater than 1.4 millimeters. A light leisure jacket's garment leather has a thickness of 0.5 to 0.9 millimeters.
What should you expect to pay for a leather jacket?
If you're buying from a traditional retailer, look for a coat in the $800 to $1,500 area for the ideal balance of quality and cost. Although that may seem expensive, if the jacket lasts you 20 years, the cost works out to be under $50 per year.
How much are leather jackets worth?
You will be shielded from any weather conditions with leather. Natural wind and water resistance make leather a good barrier. While you're riding your motorcycle, the hard winds or rain won't have any impact on your leather jacket. Although your hair may be a little scratchy, your jacket will be just fine.
Are motorcycle jackets in fashion in 2022?
The motorcycle jacket is back in 2022, so if you hung onto yours, get ready to benefit from its return. Throughout the 1990s and 2000s, Kate Moss's style was closely associated with motorcycle jackets. For evidence, just take a look at the spring/summer 2022 shows.
Does a leather jacket need to fit snugly?
Button or zip a leather jacket up when you try it on. Your armpits should feel tightly hugged and cozy in them. At any one time, you shouldn't have more fabric than three inches. You don't want a spacious jacket to get bigger because the leather stretches out as you wear it.